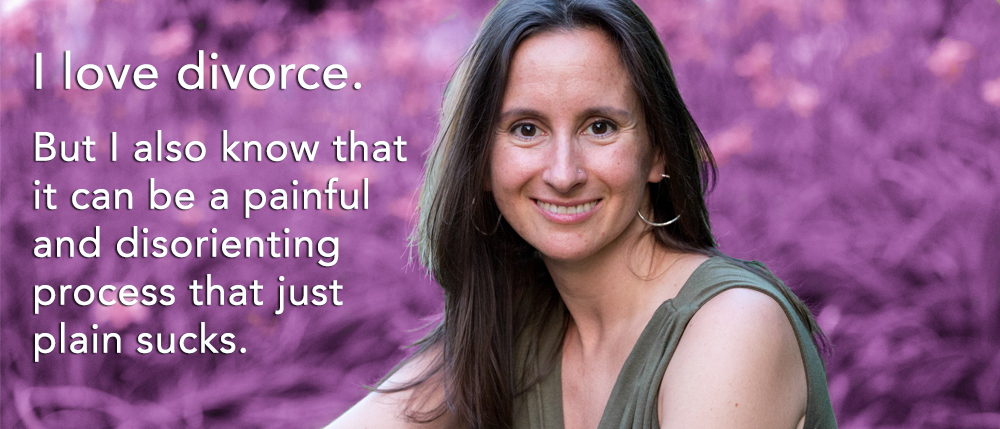 I know about the quiet fears, the desperate prayers, and that nagging question: WHY?
I know about not eating, not sleeping and counting the hours until your next therapy appointment.
I've worried about money. I've cried in a public restroom. I've been the victim of my own crappy boundaries. I've hated The Other Woman… and then felt grateful to her. I've questioned everything and everyone. And I've wondered, "What the hell do I do now?"
I've felt angry, ashamed, alone, lost, relieved, hopeful, impatient, liberated, betrayed, embarrassed, empowered, vulnerable, optimistic, injured, alienated, weary, wonderful, destroyed, depressed, delighted and sad. So f'ing sad. (in no specific order)
I've been there. And I learned a lot along the way.
My Biggest Lesson: Divorce is a human process with a legal document attached to it.
Chances are you've already retained an attorney to help you with the legal aspect of your divorce. But that's only one piece of the puzzle. Unfortunately, you can't manage the human pieces through the legal process.
That's where I step in.
Stepping Through Divorce will help you…
√

 Take control of your finances.
√

 Cultivate the best possible support squad to ensure appropriate encouragement on your journey.
√

 Make choices that align with your ideal outcome.
√

 Step off the Shame Train (you're not a bad person, partner or parent).
√

 Envision your next chapter and create a roadmap to get you from here to there.
√

 Set healthy boundaries online, in your home, and with your ex.
√  

Invest in a better version of You.
√

 Step forward with dignity and devotion.
This course will allow you to cultivate stability and an enthusiasm for the future, so you can move forward and create a life you love.
Stepping Through Divorce is a 6-week program to help you gain clarity, confidence and control over your personal journey. We'll meet Saturdays from 10:30am - 11:30am, and each week we'll tackle a different "step" in moving through the separation process. It's a journey we'll take together, in a supportive and nurturing environment, free of judgment and shame.
We'll talk about the roots of shame in our societal attitudes about divorce. We'll address the Shame-And-Blame cycle and how it works against families moving through divorce. We'll compare and contrast divorce with other life events and the structure that accompanies them. And finally, we'll look at divorce through a new lens, introducing a new paradigm. We'll realize evidence of this new paradigm in celebrity couples, legal options and trends in family structure.
The theme of Week 2 is all about envisioning your future and making a plan. We'll talk about why goals are important, how to set goals and how to stay on track to meet your goals. And naturally, you'll have a chance to set your own goals and intentions.
Emotional wounds and physical wounds have a lot in common. This week we'll talk about those similarities and the recipe for healthy healing. We'll explore sources of support and discuss how to choose and use your support squad appropriately. You'll receive a vetting checklist to help determine who is best for you to share and/or work with.
Self care is often overlooked, yet it's an important component of the healing process. This week we'll define self care (hint: it's not selfish) and talk about why you need to make it a priority. You'll learn the 3 components of self care and begin to look at new ways to love yourself on your journey.
Step 5- Financial Freedom
Week 5 is about appreciating the gifts and realizing the responsibilities that come with financial freedom. This week, you'll find personal empowerment through money-saving tips, a financial freedom checklist, and a deep dive into your budget.
Step 6- Stepping Forward with Dignity
The final step in this course is dedicated to helping you move forward with acceptance and optimism. This week you'll look back at how far you've come on your journey. You'll release that which does not serve you, and you'll write sacred vows to jumpstart your dignified new beginning.
This Program Is For You If…
You're able to travel to Camp Hill
You're working through a divorce or breakup of a serious relationship.
You're dealing with a mix of emotions.
You struggle to feel understood, and want to connect with others who "get it."
You're ready to live in accordance with your own goals and values.
You need a more clarity, confidence and control over your direction, relationships and finances.
You aim to grow better, not bitter.
You believe you're worth it.
Are you ready to step up your self awareness and personal power?
Are you ready to respect yourself, protect yourself and invest in yourself?
Are you ready to step forward with dignity?
If so, I invite you to join me...

February:  3, 10, 17, 24
March:  3, 10
10:30am - 11:30am
Mending Roots Wellness Center
2138 Market St
Camp Hill, PA 17011
Your investment of $147 includes:
6 hours of classtime, camaraderie and connection

All pertinent worksheets, tip sheets and checklists  

Notebook for additional notes, letters, intentions

Hot tea and treats

Special gift to symbolize personal evolution
Please note: Class size is limited to 15 participants

Meet Your Coach...
Hello, I'm Tara. I'm a child of divorced parents, an ex-wife, a "next" wife and the previous partner of a divorced dad. I'm also a coach, author and mediator who is passionate about healthy and respectful divorces. My mission is to inspire a more productive approach to the separation process.
I grew up thinking divorce was a good thing (because, in my family, it was). As an adult, I was shocked and saddened to see the shame, blame and destruction that takes over at the end of a marriage. As a result, I became curious. I dove into the topic to learn as much as I could. I wanted to know why divorce plays out the way it does, and what can be done to make it better. Luckily, I got answers. And now I'd like to share them with you.
I know a better way to divorce is possible because I've lived it. And I'm excited to teach you the tools I've learned so you too can realize the benefits of a mindful divorce process. You'll save time. You'll save money. And you'll feel competent.