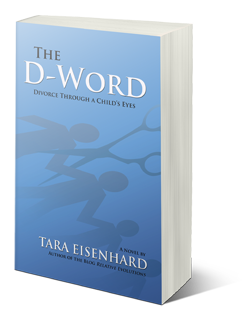 "The D-Word: Divorce Through a Child's Eyes" by Tara Eisenhard
Purchase includes an autographed paperback edition of the book
Price: $13.95 USD
[wp_cart:The D-Word:price:13.95:shipping:3.99:end]
[show_wp_shopping_cart]
Description:
Intended to inform and inspire, The D-Word is an honest, firsthand look at divorce and its ramifications. Parents, grandparents, friends, attorneys and counselors are invited to glimpse 12-year-old Gina's experience and learn how their actions shape reality for children of divorce. Through real-life examples, The D-Word addresses issues such as conflict, communication, alienation, attitudes and, ultimately, moving on.
When Gina's parents decide to separate, she finds herself propelled toward adulthood on the emotional roller coaster ride of her life. Gone are the days of an existence filled with typical adolescent turmoil. Instead of exploring her social circles, Gina listens intently to decode her parents' telephone discussions. She takes on a new level of maturity as caretaker of her younger brother and confidant to her distressed mother while she grapples with her role in a changed family. As a year unfolds, Gina struggles to find understanding, adjustment and peace of mind.
The D-Word is currently available in paperback, hardcover and eBook format. You can purchase it online through Amazon
, Barnes and Noble and iBooks. You can also order The D-Word at your favorite brick-and-mortar bookstore.
If you've had the chance to read The D-Word, please let me know what you thought of it. You can email me: Tara@taraeisenhard.com, tweet me @relativevolutns or contact me through my Facebook Page.
Reviews:
[scrapeazon asin="1475931395″ border="false" width="485″ height="1485″ ]